ReWire Energy, along with local dignitaries celebrated the company's first major commercial energy retrofit project in the Mohawk Valley, completing an overhaul of energy consumption at the Stone Mill of Little Falls. The partnership between ReWire, a NYS-certified MWBE, and Rock City Development (RCD), the owners of the Stone Mill, was the culmination of more than two years of analysis.
The Stone Mill in Little Falls is an icon of the Mohawk Valley's manufacturing legacy, built in 1839 on the banks of the Mohawk River in the historic City.
Today, the four-story, 38,000-square-foot building is a mixed-use facility with a hotel, offices, and dining. One of the bigger operational challenges of the large stone building was the consumption and cost of energy. ReWire's team of experts undertook a thorough analysis of energy usage, heating, and solar supply among other metrics, to provide a comprehensive energy efficiency plan.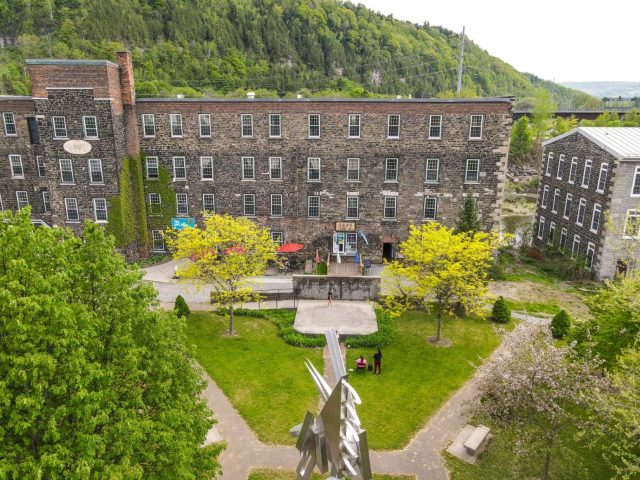 Mayor Mark Blask stated, "One of the good things about this job is getting to work alongside the leaders and innovators of Rock City Development. Martin, Dave, Neil, and their entire team. When I talk about their innovation, what I really mean is their willingness to take the next step."
"Rock City Development thinks about what is good for Little Falls as part of their decision-making process. That's really a healthy and necessary place to be," he stated.
RCD Principal Dave Casullo said, "Working with ReWire was not just a pleasure – it made great business sense. With their help, the Stone Mill is one of the Mohawk Valley's cleanest and greenest energy consumers and an even more attractive location for small and startup businesses."
"When you have people like ReWire, who bring to the table something unique, and ultimately very valuable, it adds to the differentiated nature of Little Falls," said Casullo.
He went on to talk about the history of the location, and the fact that it was 'sacred ground' where from the very early days, commerce in the area began. "Commerce was really important, and it started right here. During the Revolutionary War, a lot of the people who were significant in freeing our Country walked in this very place."
As for the project, RCD worked in tandem with ReWire and implemented a set of strategic building solutions, including:
Identifying and quantifying Stone Mill energy consumption
Designing a Near Net Zero Energy solution that optimized operational needs
Identified and vetted partners offering technical and engineering tactics aligned with Near Net Zero Energy Solution
Conducted ASHRAE Level 1 Energy Audit
Managed deployment of building and operational improvements aligned with solutions.
Sited and installed 65kw of solar power
The planned installation of two EV charging stations.
The impact of this project is staggering, with a $222,000 investment leveraging a total energy consumption reduction of 85% for the Stone Mill. With more than $72,000 of grants and incentives, the efficiency and cost savings of the ReWire solution pays for itself in less than a year.
ReWire's Ken Evans said, "Little Falls represents the best of New York's past and future. This project is a perfect example of the impact of strategic energy efficiency investments led by ReWire. We hope this project serves as an example to other building owners, developers, and business leaders that energy efficiency building investments make sense not just for the environment, but also for the bottom line."
For more information visit: My Little Falls