ReWire Reaches the Summit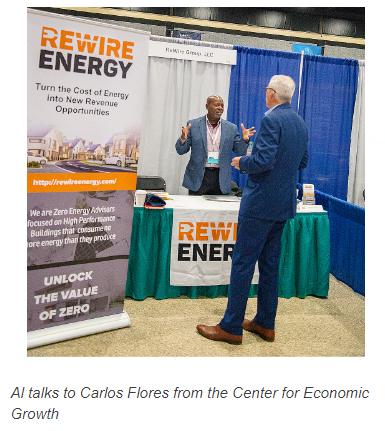 ReWire Group Partner and Head of the Digital Division, Al Evans, recently attended the 2022 New York State Innovation Summit. In addition to showcasing companies and researchers at the forefront of emerging technologies and new advancements in production capabilities, the Summit celebrated New York State leadership in technology-led economic growth.
ReWire was there to network with experts in energy innovation, climate tech, and artificial intelligence. With a focus on exploring technology convergence opportunities, ReWire hopes to accelerate its platform commercialization efforts and identify partners that can potentially support its sustainability initiatives.
At the Summit, ReWire's main objective was to begin generating preliminary interest for the Energy Management Platform initiative. The current phase of the platform is designed to address the challenges Municipal Public Housing Authorities and Affordable Housing Developers face when they seek to obtain the benefits of Community Solar for their residents.
In addition, ReWire wants to help property managers protect the residents of their developments from the increasing threats of climate change. Extreme heat waves are one of the most dangerous weather events faced by those living in densely populated urban environments. The Energy Management platform can help Chief Heat Officers (CHOs) prepare proactively and protect their vulnerable communities, Seniors, those with chronic conditions, and disadvantaged populations, many of which don't have access to indoor air conditioning.
ReWire has the answer. We talked to several in the industry at the Summit and they agreed that the Energy Management platform is a timely and much needed solution. By combining access to renewable energy and real-time weather monitoring, the platform will help property managers prepare in advance by ensuring that battery energy storage systems are fully charged, alternate energy sources are prepared, cooling stations are opened, and other preventive measures are taken.
The event was held in Buffalo this year which, in addition to attending and exhibiting at the Summit, provided Al with the opportunity to visit with strategic partners and associates located in the western part of the state.
On Tuesday, Al met with David Gordon, President of Green Building Partners, developing plans for the ongoing Community Solar collaboration between their two organizations.
Wednesday morning breakfast with Dennis Elsenbeck was illuminating. Al and Dennis discussed the Northland Corridor project which was recently funded. It will renovate two industrial buildings, creating a Clean Energy Microgrid, to power the workforce training center campus while supporting manufacturing training programs. ReWire can help support the knowledge transfer and the effort to develop training programs that can bring this highly efficient and practical solution to other New York State communities.
Al also bumped into Dr. Heidi Knoblauch, who was there participating in her first Summit as a representative for ESD in her new role as the Senior Director, Entrepreneurship Development. Congratulations Heidi!
ReWire is already looking forward to the 2023 NYS Innovation Summit, which will be held in Saratoga Springs NY!
We'll see everyone there in October 2023!
Summit Video: https://youtu.be/A_v0Jkk6ru4