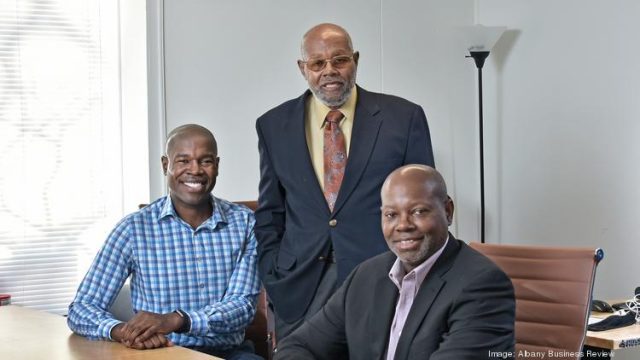 ReWire Group is joining the Start-Up NY program with a goal of creating 75 new jobs over the next five years on the University at Albany campus.
As part of the move, ReWire will take space at the UAlbany Innovation Center, located within the university's Emerging Technology and Entrepreneurship Complex on the Harriman State Office Campus in Albany.
To get more information, please visit ReWire Group expands to Albany with space at UAlbany's ETEC – Albany Business Review (bizjournals.com)
Brothers Kenneth and Alan Evans started ReWire Energy in 2015 along with several of their siblings and their father, Milton. The Saratoga Springs based company began with a focus on planning and analysis, figuring out ways to lower clients' energy bills while bringing in new technologies like solar, smart thermostats and net-zero energy technologies. The family all have experience with large corporations and several have started their own businesses.
At UAlbany, ReWire will work on the development of an energy management platform to digitize its model for transitioning commercial, municipal and industrial customers to lower their carbon footprint and incorporate renewable energy technologies. The firm plans to collaborate with faculty and student teams on software design as well as develop and test new solutions for rising energy costs.
ReWire shifted more recently to focus on the digital side of its business — which develops new software for energy services, including analytics and financial modeling for customers who are building new construction, as well as energy-specific IT projects in automation and systems integration. The company has worked with CHA and Siemens in the past.
Earlier this year, ReWire was awarded a subcontract with SUNY Poly and NYSERDA to expand energy-related training for building and operations maintenance employees on campus.
ReWire told the Business Review last year that they saw an opportunity in securing more state contract work as a certified minority-owned business — especially with New York's push to create a green energy economy.
ReWire is the latest company to join Empire State Development's Start-Up NY program.
The goal of the program when it was introduced in 2014 was to create jobs by convincing companies to move to New York and help early-stage companies compete by allowing employees to avoid paying income taxes for up to 10 years. To qualify, participating companies have to operate in a state-sanctioned zone, primarily on college campuses.
To learn more information, please visit here.